New boiler installations in Finedon, Wellingborough
Please call us on
07919 156562
or use the contact details down below for a free boiler installation estimate.
Boiler installation
Broken down boiler? Need a gas engineer to come out and replace it? Get in touch with us at Fletchers Heating & Plumbing Ltd to install your new boiler. Whilst we'll always try and fix your boiler before we replace it, if we think installing a brand new boiler will help you save money in the long-term, we'll let you know and we'll then help you choose a brand new boiler for your home.
We only install boilers that we know are energy efficient and are less prone to breakdowns, ensuring that you can rely on a reliable, cost-efficient boiler for years to come.
Why choose us to install your new boiler in Wellingborough?
There are several reasons as to why you choose us as your local gas engineer in Wellingborough...
Gas Safe Registered
We're Gas Safe Registered, meaning we've undergone thorough gas safety training and can legally work with and install gas-fired boilers. Our work is constantly checked by the Gas Safe Register so you know you're in safe hands.
Vaillant Advanced Installer
We're Vaillant advanced, meaning we've undergone extensive training with Vaillant and as a result, can offer extended warranties of up to 10 years on selected Vaillant boilers that we install.
Baxi Approved Installer

We are also a Baxi Approved Installer, meaning that we can offer extended warranties up to 10 years on select Baxi boilers. For more information on the benefits of using a Baxi Approved Installer, please click here.
Experienced boiler installer
Our lead engineer has worked in the trade since 2003, working for both British Gas and leading boiler manufacturer, Vaillant, specialising in particular in new boiler installations.
Highly rated
Please check out some of our reviews on our website to see what some of our customers in Wellingborough and the surrounding areas have had to say about us, we're confident that you will be impressed.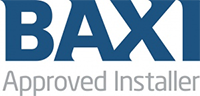 Get in touch for a replacement boiler in Wellingborough
To get in touch with our engineers for a new boiler installation in Wellingborough or anywhere in the surrounding areas, please call us on 07919 156562 or send us a message through our contact form. We'll look forward to hearing from you soon.